The festive season is here and while it's high time you take a break, you don't need to check out on your gut health.
Accredited Practising Dietitian (APD) and Microba Lead Microbiome Coach, Bianca Maree Harrington, has a few top tips to enjoy family feasting and cocktail parties while also keeping your microbial friends merry and bright.
So, why should you keep your microbiome happy and healthy?
Although maintaining waistlines and controlling bloating are common concerns over the holidays, your gut and its resident bacteria have the power to influence much more than just your size.
"Keeping your gut microbiome balanced is key to your general wellbeing," Bianca says.
Research shows there are strong links between your gut microbiome and your overall health, including a wide range of metabolic functions, from digesting fibre and protein, to producing thousands of substances that can interact with your immune, metabolic and nervous systems.1,2
Bianca explains that "what you eat" is one of the most influential factors in supporting a high functioning gut microbiome. The good news is, your dietary choices are also one of the many health aspects which you have the most control over.
So, finding a balance – whether it be among your gut bacteria or between celebrating and keeping your gut microbiome healthy – is in your hands.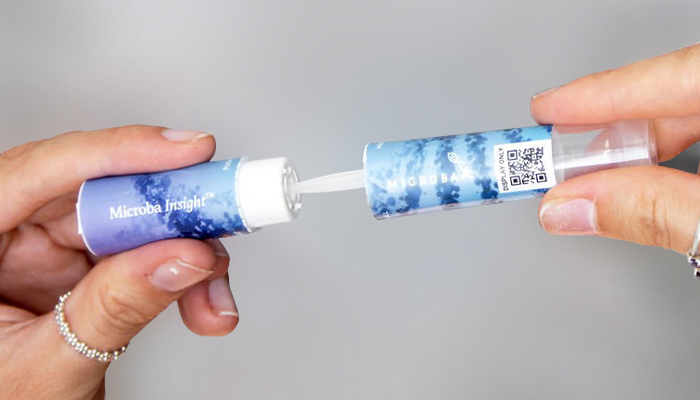 Interested to see what your microbiome could reveal? Find out.
Choose prebiotic-packed condiments
The first tasty tip applies to most meat eaters or those who eat meat alternatives and love to use sauces, dressings and toppings. 
"You can actually make your sauces such as apple or cranberry from scratch!" Bianca says.
It's not always the easiest option but it's much better for your microbiome than pre-packaged products which can contain refined sugars, artificial colours, flavourings and additives. 
By eating homemade apple or cranberry sauces and dressings, you can get a good boost of either pectin (found in apples) or proanthocyanidins (found in cranberries) which are great prebiotics for the microbiome and fuel your gut bacteria nicely.3 
Get your fill of lower-saturated fats
Speaking of condiments, Christmas or Boxing Day brunch often comes with plenty of bacon and sausage slathered in sauces and chutneys.
Bianca says you can still get your meat fix – great news for the carnivores out there – just with lower-saturated fat alternatives. 
She explains, that while people tend to gravitate toward processed meats high in saturated fat, these can actually increase the growth and activity of bacteria in the gut microbiome associated with inflammation.3,4
The Australian Dietary Guidelines recommend that saturated fats should be less than 10 per cent of your calorie intake from food and beverages each day, which is approximately 20-25 grams for the average Australian adult.5
Therefore, Bianca recommends shaved chicken or turkey breast over many pork or beef options.
Put the spotlight on side dishes
Now, you can't have a Christmas feast without side dishes, and luckily, this food swap is easier than one would expect, as there are some common favourites that are great for your gut microbiome.
"When it comes to holiday side dishes, rice, pasta and potato salads are actually excellent options for your table," Bianca says. 
She explains that the cooking and cooling process of rice, pasta and potatoes result in an increase in their resistant starch content.
Resistant starch is an excellent prebiotic for the gut microbiome, as it increases the growth and activity of bacteria which produce anti-inflammatory substances.3 
As an added bonus, these substances can also assist in managing your appetite, which this microbiome-savvy dietitian says can also help curb your cravings over the holiday season!  
Make vegetables the main event
If you aren't keen on a table full of side dishes or meaty mains, Bianca says you have plenty of vegetable options, such as roasted vegetables or a classic vegetable medley. 
"It can be easy to neglect your vegetable intake when faced with all of the other delicious options on the Christmas table, however, vegetables are powerhouses when it comes to nutrition and fueling your gut bacteria," she says.
Bianca recommends getting creative and filling half your plate with vegetable-based dishes – both hot and cold. These include potatoes, mushrooms, eggplants and green beans, all of which make tasty mains. She also suggests you add roast pumpkin or sweet potato to diversify colour and flavour. 
Don't break the bank
A common misconception with choosing healthier alternatives is that it has to be expensive or difficult to find.
Bianca says this is not so, explaining that many of your gut-friendly holiday alternatives, such as apples, cranberries, lower-saturated fat meats, potatoes, salads and vegetables are widely available. So instead of embarking on a special trip to the gourmet grocer or specialty butcher, try your local grocer, fruit and vegetable shop, or even a farmer's market for a quarter of the price.
There you have it, your top food swaps to get you through the holidays and still keep your microbiome in shape. With gut-fueling alternatives such as these, there's no need to feel left out of the merriment. Plus, you can help your family and friends boost their gut bacteria too!
Interested to see the potential links between your microbiome and your overall health? Discover Insight™.
References
1). Sharon, G. et al.. .
Specialized metabolites from the microbiome in health and disease. .
Cell Metab. 20, 719–730 (2014)
2). Levy, M., Thaiss, C. A. & Elinav, E. .
Metabolites: messengers between the microbiota and the immune system. .
Genes Dev. 30, 1589–1597 (2016)
3) Singh, R. K. et al..
Influence of diet on the gut microbiome and implications for human health. .
J. Transl. Med. 15, 73 (2017).
4) Devkota, S., Wang, Y., Musch, M. W., Leone, V., Fehlner-Peach, H., Nadimpalli, A., ... & Chang, E. B. .
Dietary-fat-induced taurocholic acid promotes pathobiont expansion and colitis in mice. .
Nature, 487(7405), 104 (2012). . Doi: Doi: 10.1038/nature11225
5) Australian Government,.
National Health and Medical Research Council. .
Australian Dietary Guidelines. (2013).